Volunteers
Volunteer Now!
The Investment Strategies Program is an on-line learning opportunity, consisting of in-class learning activities and on-line stock market simulation.
Working in partnership with the teacher for one semester, volunteers share their experiences and insights into finance and business with students.
Benefits for Volunteers
Improve presentation and facilitation skills
Become a part of the education of youth
Make a valuable contribution to the community
Frequently Asked Questions (FAQ)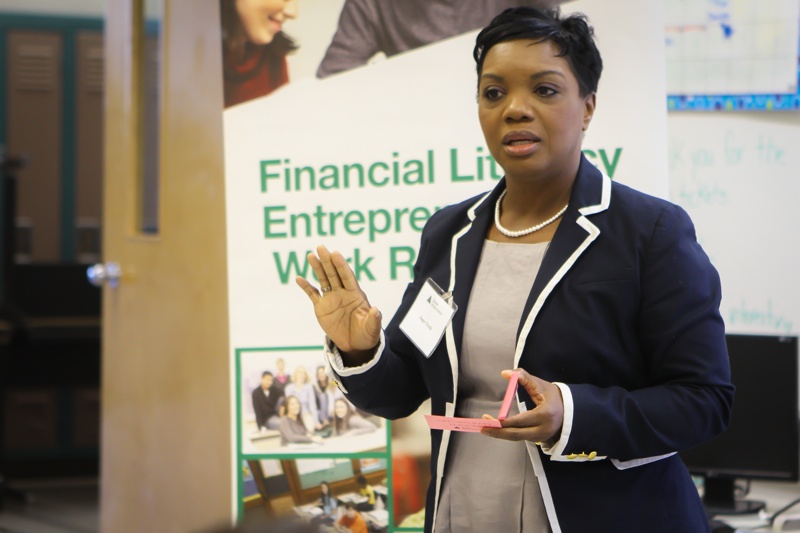 WHAT IS ISP?
Junior Achievement (JA)'s Investment Strategies Program (ISP) is an online learning opportunity, consisting of in class learning activities and an online stock market simulation. ISP is geared towards grades 8-12 classrooms.
The online simulation (designed and managed by Claero Systems) reinforces the need to increase the use of technology within the classroom. It is a free, risk-free and educational look at the stock market and other financial literacy topics. The simulation is currently offered twice a year in the fall and spring semesters.
WHAT IS THE DIFFERENCE BETWEEN ISP CONNECT AND ISP VIRTUAL?
There are two versions of the ISP program: ISP Connect and ISP Virtual. If participating in the ISP Connect, JA matches the classroom with a trained volunteer from the financial sector. If participating in the ISP Virtual, the teacher is given a suite of materials that include video clips of a "virtual" classroom volunteer to help facilitate the program materials. This virtual volunteer will also help coach the students in the online stock market simulation.
WHAT ROLE DOES THE VOLUNTEER PLAY?
In partnership with the classroom teacher, the volunteer will facilitate the pre- simulation learning activities (provided by Junior Achievement) and coach the students throughout the online stock market simulation. Volunteers will share their insights into the world of financial literacy.
WHEN AND WHERE DO I VOLUNTEER?
Starting in March or October, volunteers will facilitate 4 classroom visits (about one hour in length). Volunteers can select a participating school that is close to work or home.
WHAT SUPPORT DO I HAVE?
Upon registering, volunteers will be placed with a program manager who will ensure they have all the materials and training needed to facilitate the program. JA will help volunteers every step of the way!
Help Me