The Investment Strategies Program (ISP) is a learning opportunity for Grade 8-12 students to explore the ways in which people save and invest for their future. The program includes interactive lessons and culminates in an online stock market simulation, called Invest JA, where students manage their own simulated stock portfolio. The simulation is linked to live data from North American stock markets and is an engaging opportunity for students to apply the investing principles taught in the program.
The Investment Strategies Program is one of a series of programs offered by Junior Achievement of Canada. Click here to view all JA programs in Canada
ISP is available in British Columbia as:
ISP Virtual where the teacher facilitates the program and is supported via a series of online videos of ISP volunteers. The videos support the teacher as the class works through the lessons and activities. This approach also includes the resources needed for the class to participate in the Invest JA stock market simulation. Watch the introduction video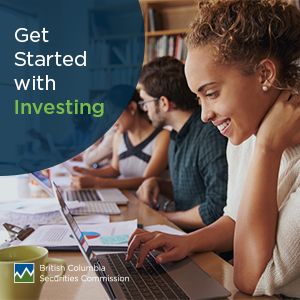 Get Started with Investing is an online resource that takes you through the investing basics and will help you learn how to make educated investing decisions. You can work through all 11 videos in less than 15 minutes!
If you're interested in learning about investing, then this resource is for you. You can learn about your financial self, the differences between saving and investing, and key questions to ask yourself when deciding on what investment products are right for you.
Get Started with Investing was developed by the British Columbia Securities Commission, an independent government agency that strives to make the investment markets benefit the public. We demystify investing through our investor education website, InvestRight.org, by sharing unbiased, reliable information about investments, ways to invest, and pitfalls to avoid.
British Columbia Sponsors
Help Me